VITALITY for Horses
Regular price
$139.99 USD
Regular price
Sale price
$139.99 USD
Unit price
per
Sale
Sold out
VITALITY, our equine CBD tincture, can be utilized for pre-performance or used as an addition to daily routine based on your horse's needs. Pair with Enhance, our horse liniment, and Focus, our concentrated pre-performance CBD tincture, to maximize results!
Administer with confidence! Our products are made from the finest hemp grown in the United States. They are 100% organic, gluten free, pesticide free, and never contain THC.
Not all associations permit the use of CBD in competition. Please consult with your individual association before using this product.
**This product does not ship to California**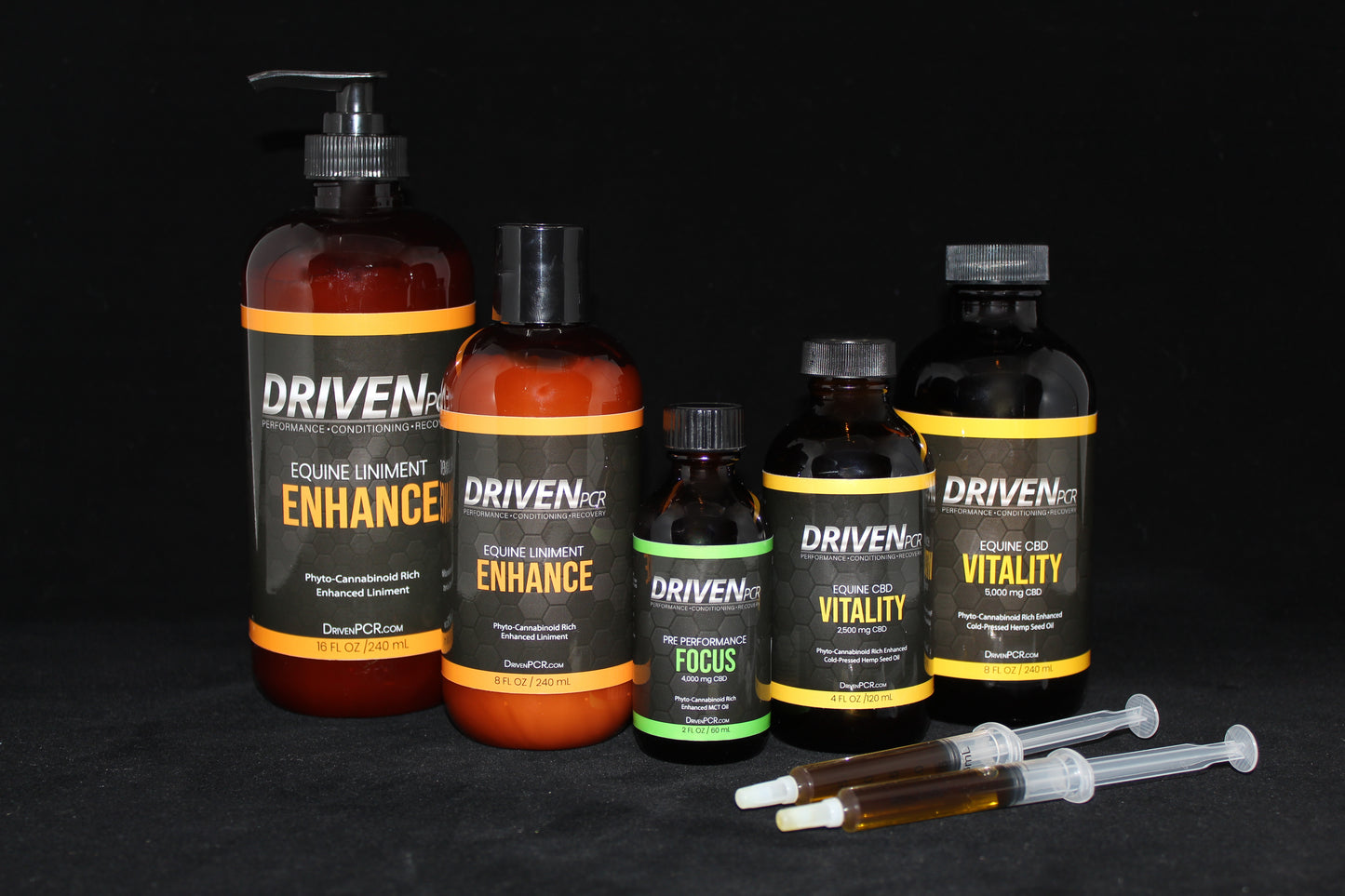 Why Our Customers Love VITALITY!
"My barrel mare had a suspensory tear and chipped fragments off her sesamoid bone. After 60 days of getting 3 CCs of VITALITY each day and stall rest, the vet was amazed by how well she's been recovering and is hopeful that in another 30 days I can slowly start rehabbing her back. I don't think that would've been possible without the help of your product."
Chelsie D.
Directions for Use

Our tinctures are most effective when given sublingually in the jawline or under the tongue to absorb into the soft tissue and effectively enter the bloodstream. The suggested daily serving is 2-4 ML per day. Each animal reacts differently; look for desired results in 7-10 days and as quickly as 2-3 days. Keep at room temperature to preserve freshness. Store away from humidity, heat, and direct sunlight.

Ingredients

Active Ingredients per serving (4 mL):

CBD Isolate: .5 mL = 10.58 mg

1 mL = 21.15 mg

Inactive Ingredients:

Organic Cold-Pressed Hemp Seed Oil [Linoleic Acid (Omega 6) 63%, Alpha Linoleic Acid (Omega 3)21%], Oleic Acid 16%